How to Sign Up for the Amazon Affiliate Program.
How do I successfully join the Amazon Affiliate Program?
Amazon remains one of the Earth's biggest online store. It is FREE to join Amazon Associate Program. You can earn up to 10% advertising fees with the most trusted e-commerce leader in the industry!
How do you join Amazon Affiliate Program?
In this step-by-step guide to setting up amazon associate program account, I will guide you through to successfully setup initial account with Amazon Associate Program with screen shots from each section. If you follow through to the end of the 7 simple steps that I put together here, you will be able to successfully join the Amazon Affiliate Program.
These 7 simple steps I put together with pictures that can be easily followed through and applied.
Go through this tutorial and learn more if you don't know how and where to begin.
---
CLICK the 'Join Now for Free' button as labeled on the picture below. Make sure to change the name of the country on the top at the right side, to the country appropriate to you.
---
Step 2: Create New Account Page.
Fill in initial personal details on this page.
Full name,
valid email address,
a secure password you can easily remember.
Then CLICK the 'Create Your Amazon Account' button as shown on the picture here.
Step 3: Start Creating Your Amazon Associate Account.
Write the name of initial company (legal company) or initial personal name.
Fill in initial current valid address. Do not use third party's addresses or addresses that are not valid and inactive. Amazon will use this address to send initial pay check.
Zip Code/Postal Code:
Fill in the appropriate details with a valid zip code or postal code. If you don't know initial zip or postal codes check out this link. World Postal Code is where you can search for postal codes.
Enter initial full legal name or initial the full name of initial company. If you are creating account for someone else, then you check the other and you will be required to fill in other necessary information.
Step 4: Website and Mobile App List.
Enter initial Website(s):
Enter as shown below with initial primary website address. Do not enter websites created on sub domain names and unsecured websites. You can enter more than one website that you or initial company owns.
Enter initial Mobile App URL (s):
You can enter more than one mobile app if you are an app developer. If you don't have, then leave it blank.
If initial website or app as indicated above is purposely created for the consumption of children at age 13 and below. CLICK 'Yes' and declare them as indicated below. CLICK 'No' if initial content not suitable for age 13 below.
Step 5: Preferred Associates Store ID
Preperred Associate Store ID will help you to identify initial associate stores if you are deciding to have multiple associate accounts and link to amazon associate from other countries and monitor initial sales and ads within initial account system. Choose ID that is simple and easy to remember.
Describe briefly what each of initial websites or apps are about under about section (website or mobile app).
Refer to the example below and write and select what's appropriate to initial sites or apps.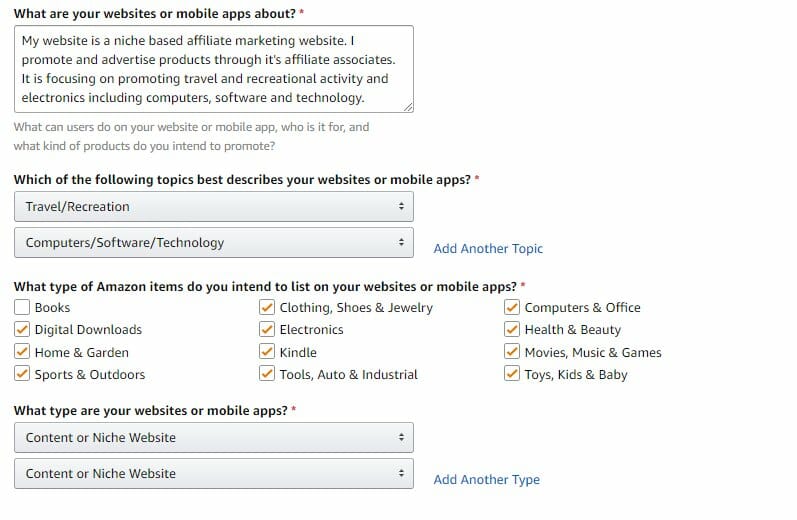 There are 8 check boxes and 5 questions with answers on drop down menus, which are easy to select. Look at the example below and select what is appropriate to initial website(s) or apps. Select only those relevant ones that you can use to drive traffic to initial website(s) or app(s).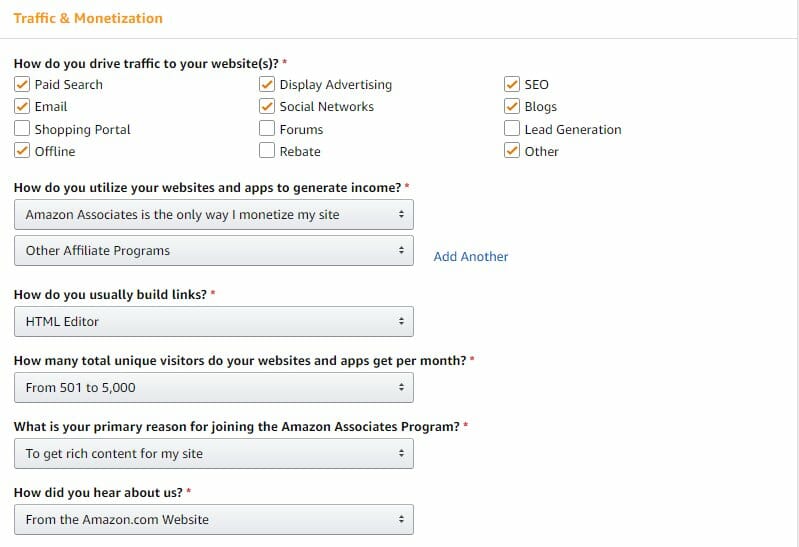 ---
Step 6: Identity Virification.
Amazon Associate Central will use the details you enter in this section for the virification purposes.

Change the default code (+1) to initial country code and enter a valid cellphone number that you are currently using.
Check the agreement box and CLICK 'Call Me Now'.
Your PIN Generating Call.
You will receive a PIN generating Call on initial given phone number after click on 'Call Me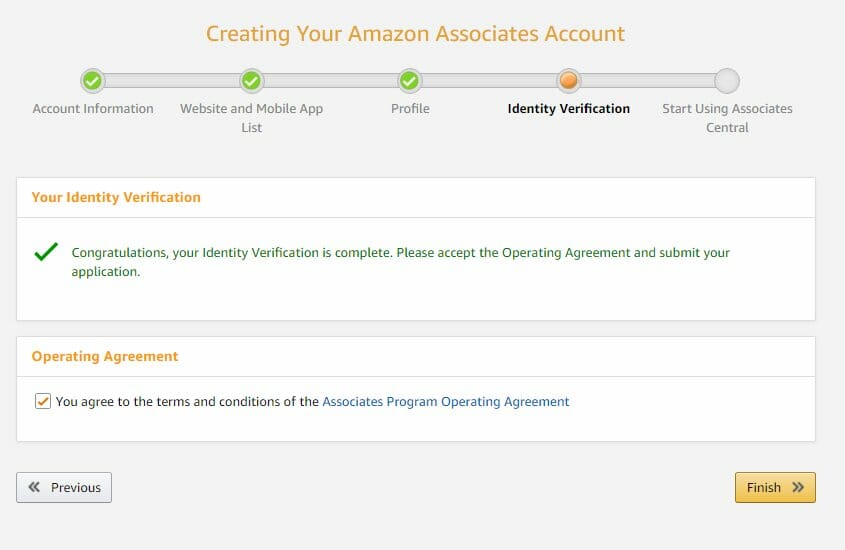 Now'.
All you need to do is attentively listen and follow the automated instruction from the call. The caller will read out initial PIN. You dial the PIN using the same phone while on call and the system will verify initial identity.
When you are verified, CLICK 'Finish' button to the next section.
Step 7: Entering Payment and Tax Information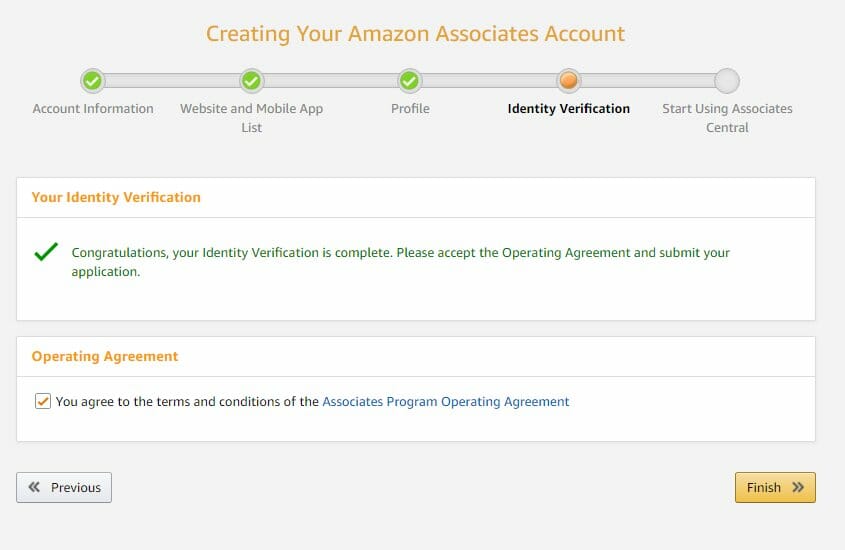 A congratulatory message will appear on the screen as shown above informing that initial identity verification is complete.
Check the Associates Program Operating Agreement box at the bottom left and CLICK 'Finish' button and move to the next section.
Click 'Submit and Continue with Tax Information' button to continue entering initial Tax information.
Payment Method:
For Non-US Based Associate and US Based Associates options are given. You select one method that is appropriate and convenient to you.
If you want to come back and enter method of payment later you can do so. Click 'Skip Payment and Continue with Tax Information'.
Click the link below to start signing up for Amazon Affiliate Program and Start Earning Commission with initial Website(s) or App(s).